Articles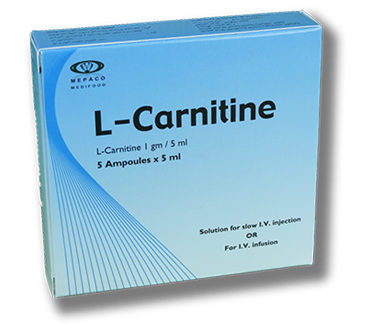 L-Carnirine 1gm
5 ampoules
Each 5 ml ampoule contains:
L-Carnitine ............................................. 1 gm
• Primary carnitine deficiency: skeletal and cardiac muscle myopathy,hepatic encephalopathy   
• Secondary carnitine deficiency due to genetically determined disorders, acidurias and disorders of beta-oxidation. 
• Secondary carnitine deficiency due to acquired conditions  :
Haemodialysis and renal Fanconi Syndrome, Anticonvulsants: Sodium valproate, Pivampicilline therapy.
• L- Carnitine has a cardioprotective effect during Antineoplastic therapy.
• Myocardial infarction: L-Carnitine decreases the infarct size. 
• Low birth weight infants.
• Full term infants receiving Soya based formula.
• Improve athletic performance in healthy subjects.
• Long standing leg ulcers.
• Idiopathic asthenozoospermia.
• Hemolytic anemia (Thalassaemia & Sickle cell anemia)