Articles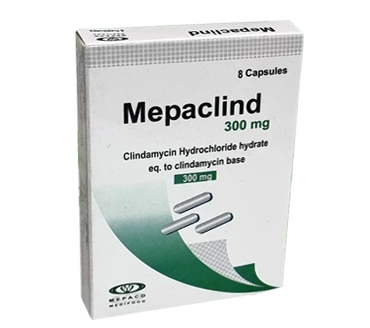 Mepaclind 300mg
8  capsule
Each capsule contains:
 Clindamycin HCl 325.5mg equivalent to Clindamycin 300mg
Therapeutic indications
Clindamycin is indicated for the treatment of Serious infections caused by anaerobic bacteria , including intra-abdominal infections skin and
soft tissue infections. As needed , clindamycin should be administered in conjunction with another antibacterial agent that is active against
gram negative aerobic bacteria.
- Tonsillitis
- Dental infection
Consideration should be given to the official guidance on the appropriate use of antibacterial agents.