Articles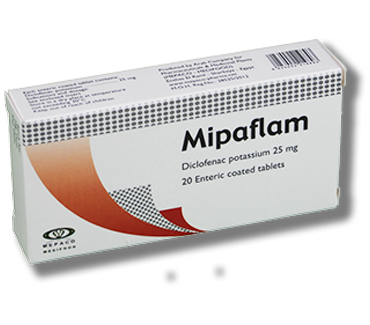 Mipaflam 25 mg
20 Enteric coated tablets
Each enteric coated tablet contains:
Diclofenac potassium 25 mg
Rheumatoid arthritis.
Osteoarthrosis.
Low back pain.
Migraine attacks.
Acute musculo-skeletal disorders and trauma such as periarthritis (especially frozen shoulder),
tendinitis, tenosynovitis, bursitis, sprains, strains and dislocations, relief of pain in fractures.
Ankylosing spondylitis.
Acute gout.
Control of pain and inflammation in orthopaedic, dental and other minor surgery.
Pyrophosphate arthropathy and associated disorders.